When I first announced on Facebook that I'd started keeping four chickens in the back garden, more than one friend was incredulous – since I'm a London-born film critic who's never been trusted with anything more complicated than a cat, a hamster or a goldfish, was this altogether wise?
Truth to tell, it wasn't my idea – my wife Jane's family had reared chickens many decades ago, and ever since she'd had a dream of keeping her own pen of authentic East End wartime chickens named Pearl, Queenie and Vi.  Much more recently, my aunt started keeping chickens, and even when they were all eaten by a fox her immediate reaction was to replace the lot.  So they clearly had some appeal.
Anyway, after what seemed like (and may well have been) years of talking about it, the ball finally started rolling earlier this year with the eBay purchase of a used chicken house, whose transportation to the back garden was a saga in itself – not only did it weigh a ton, but it was too wide to pass either through our house or along the side alley.  In the end, we rounded up half a dozen neighbours to lift it six feet and carry it in such a way as to traverse both our side alley and the one next door.
Finally, after the demolition of an elderly shed and its replacement with one half its size, we had a perfect location in the bottom left-hand side of the garden, where the chicken house was moved, and a nine foot by six foot chicken run was constructed.  At almost the last minute, we decided to mount the latter on heavy paving slabs to deter foxes, and we also installed a heavy bolt on the house's rear door, to make it impossible to open just by flipping up the catch.  We get a lot of foxes round these parts, so we take the possibility of an unwanted visit very seriously indeed.
Anyway, this is what the final set-up looks like, though the wide-angle lens makes the chicken house look smaller than it actually is.  It also looks quite startlingly clean compared with how it ended up after only a few days – in particular, there was scarcely a blade of grass to be seen within the pen itself.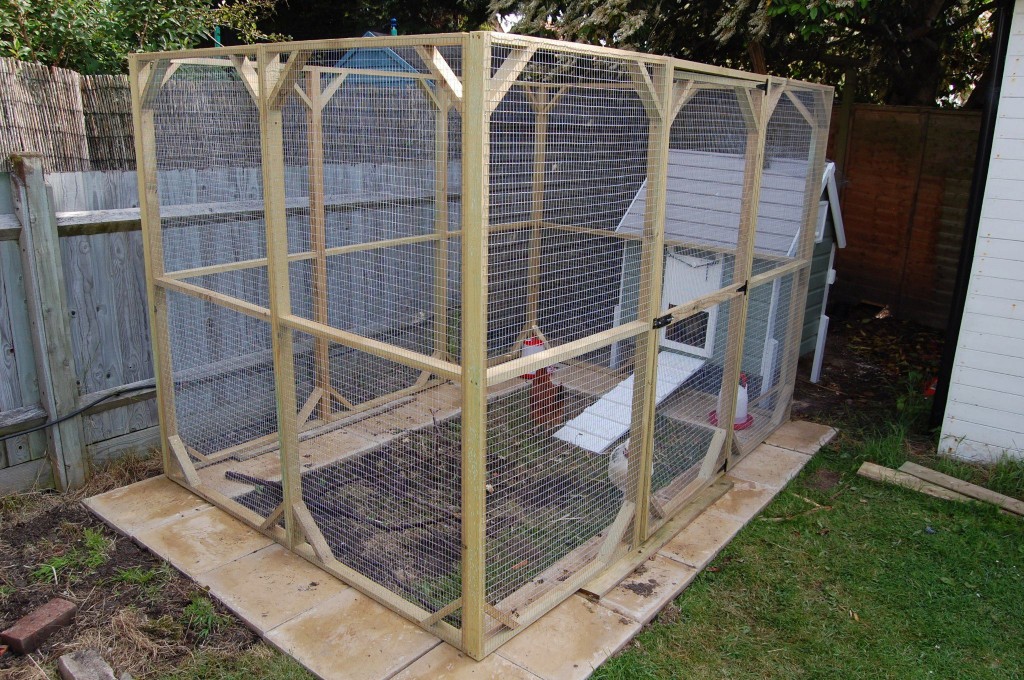 The chickens arrived on the evening of Monday 18 June, 2012, and are introduced in more detail here.  I immediately started posting details and pictures on Facebook, which seemed to go down rather well – and when more than one person urged me to start a chicken blog, I thought "why not?".  So here we are – I've ported all the Facebook content over and backdated it to the original date and time (here's a link to the first blog post, announcing their arrival), but what happens afterwards is down to the chickens themselves…